The Fusion Bluetooth Wireless Headphones are a premium audio accessory designed to elevate your listening experience. These sleek and stylish headphones offer a seamless blend of comfort, convenience, and exceptional sound quality.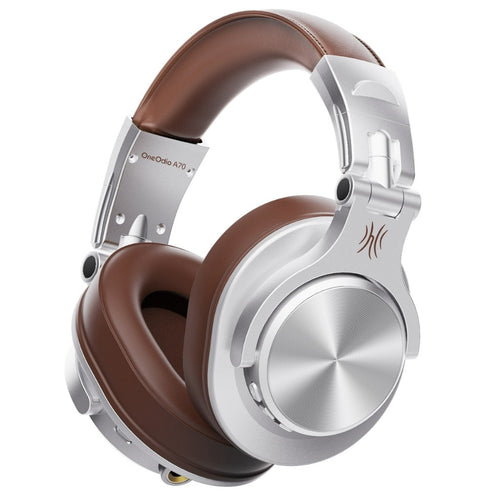 Featuring advanced Bluetooth technology, these headphones provide a wireless connection to your devices, allowing you to enjoy your favorite music, podcasts, or movies without the hassle of tangled cords. The fusion of Bluetooth 5.0 and a stable connectivity range of up to33 feet ensures uninterrupted audio streaming, giving you the freedom to move around without compromising on sound clarity.

Equipped with powerful 40mm drivers, the Fusion headphones deliver immersive and dynamic sound with deep bass and crystal-clear highs. Whether you're a music enthusiast or a movie lover, these headphones provide an impressive audio experience that brings your entertainment to life.

Designed with comfort in mind, the Fusion headphones feature soft over-ear cushions and an adjustable headband, ensuring a snug and customized fit for hours of comfortable wear. The lightweight construction makes them perfect for on-the-go use, while the foldable design allows for easy storage and portability.

The Fusion headphones also come with convenient on-ear controls, allowing you to effortlessly adjust volume, skip tracks, and answer calls without reaching for your device. The built-in microphone enables hands-free calling, making it ideal for busy professionals or those who are always on the move.

With a long-lasting battery life of up to20 hours, the Fusion headphones ensure extended listening sessions without frequent recharging. The included USB charging cable makes it easy to power them up whenever needed.

Whether you're a music lover, a frequent traveler, or someone who simply appreciates high-quality audio, the Fusion Bluetooth Wireless Headphones offer a perfect blend of style, comfort, and exceptional sound performance. Elevate your listening experience and enjoy your favorite content with these top-of-the-line headphones.
Specifications:
Speaker: 40 mm
Impedance: 32Ω
Sensitivity: 105±3dB 1kHz
Bluetooth Ver: Bluetooth 5.2
Wireless Range: >=10m
Battery: 650mAh Polymer Battery
Playing Time: Up to 72 hours
Talking Time: Up to 72 hours
Charging Time: About 2.5 hours
Package Content
1 x Headphone
1x 3.5mm Audio Cable 
1x 6.35mm to 3.5mm Cable
1x USB Charging Cable
1x Portable Bag
1x User Manual